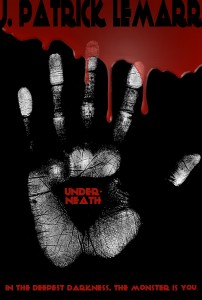 WRITE CROWD PUBLISHING is pleased to announce the impending release of UNDERNEATH, a horror short story from the mind of author J. PATRICK LEMARR. Available July 6th, UNDERNEATH is a dark tale of terror in the coal mines of Pennsylvania that can be experienced in one of two ways:
If you prefer to do your reading on an iPad, Kindle, Nook or other digital eReader, UNDERNEATH will be available as a digital single for just 99 cents!
If you want a truly unique experience, UNDERNEATH will be available as a LIMITED EDITION CHAPBOOK. These hand-crafted chapbooks feature 105 lb. coal black charcoal covers with a velcro dot enclosure. Each page appears marked by coal dust (without hindering readability) and is printed in a typewriter font for a look true to the story's 1970s setting. Each chapbook also features a blood red envelope on its back interior cover which houses 4 original illustrations from artist JASON WEBB, archival documentation, if you will, of the tale. LIMITED TO ONLY 50 COPIES, the chapbook is available now for preorder and will begin shipping July 6th.
30% of net proceeds from chapbook sales  and 10% of the eBook Single sales of UNDERNEATH will go to support charities and organizations working to protect and aid women and children who have excaped from abusive situations.
PREORDER YOUR CHAPBOOK TODAY!
Posted in
News
Comments Off

on UNDERNEATH to be unleashed 7-6-12!!